Discovering Albufeira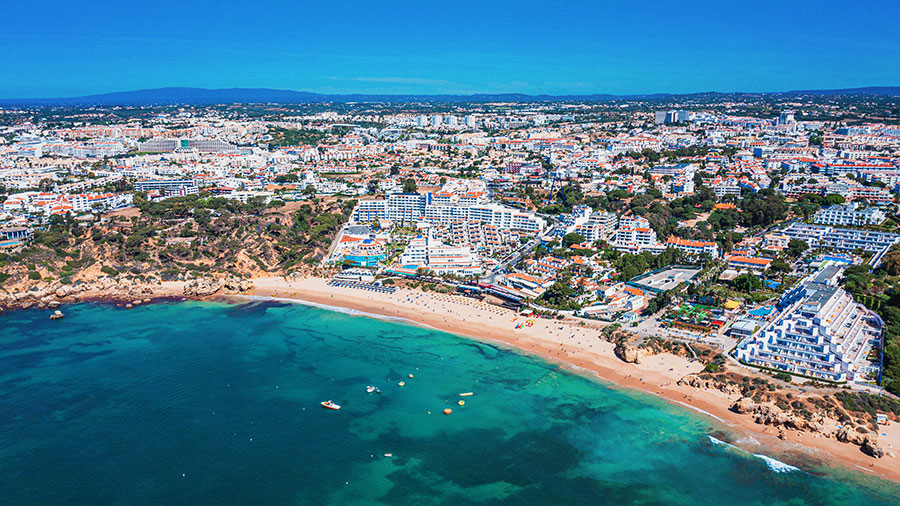 Welcome to Albufeira, a vibrant coastal city located in the stunning Algarve region of Portugal. With its beautiful beaches, rich history, and lively nightlife, Albufeira has become a top destination for travellers from around the world, especially those coming from the UK. Whether you're looking to relax on the golden sand beaches, explore the charming streets of the old town, or indulge in delicious Portuguese cuisine, Albufeira has something for everyone.
Albufeira Car Hire offers reliable and affordable car rental services in Albufeira, allowing you to explore the region at your own pace and convenience. With our wide range of vehicles, excellent customer service, and hassle-free booking process, we aim to make your journey in Albufeira as smooth and enjoyable as possible.
In this article, we will delve into the wonders of Albufeira, highlighting its popular attractions, cultural events, and natural beauty. We will also provide valuable insights and tips on how to make the most out of your visit to this breathtaking destination. So sit back, relax, and let us guide you through the wonders of Albufeira.
History of Albufeira
Discover the Rich History of Albufeira: From Ancient Settlements to a Thriving Tourist Destination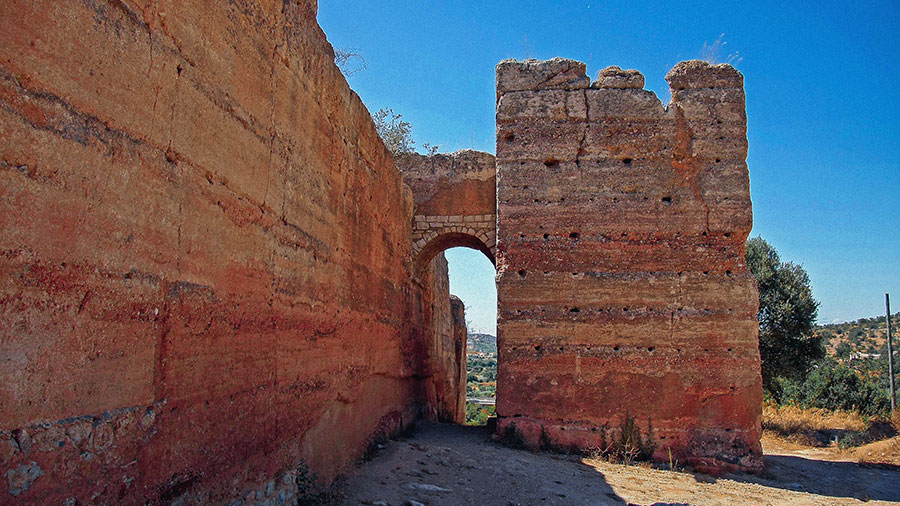 Did you know that Albufeira has a rich history that dates back centuries? Let's take a journey through time and explore the fascinating story of this charming city.
The origins of Albufeira can be traced back to prehistoric times, with evidence of human occupation as early as 2000 BC. The Romans, who settled in the area, named it Baltum, and later, the Arabs, who ruled the region in the 8th century, called it Al-buhera, which means "castle of the sea." The influence of these ancient civilizations can still be seen today in the architecture, streets, and local culture of Albufeira.
During the Arab occupation, Albufeira was a strategic stronghold, with its castle perched on top of a hill overlooking the sea. The castle was nearly impregnable, and Albufeira remained one of the last bastions of Arab control until it was conquered by King Afonso III of Portugal. The legacy of the Arab occupation can be seen in the narrow streets, whitewashed houses with terraces, and the local dialect and cuisine.
In the 15th century, Albufeira received a new charter from King Manuel I, granting it the status of a town. Its location on the coast made it an important centre for fishing and trade. The town thrived during this period, and its prosperity is reflected in the carefully preserved Manueline architectural elements found in the old town.
Unfortunately, in 1755, a devastating earthquake struck the region, causing massive destruction. The old town of Albufeira was almost entirely destroyed, and only 27 houses were left standing. The earthquake was followed by a tsunami that engulfed the coastline, resulting in the loss of many lives.
After the earthquake, Albufeira endured a period of decline and economic hardship. But in the mid-20th century, the city experienced a revival as it began to attract international tourists. The pristine beaches, warm climate, and picturesque surroundings captivated visitors from around the world.
Attractions
Drive to Paradise: Exploring Albufeira's Best Beaches with Our Rental Cars
When it comes to beach destinations, Albufeira is one place that should be at the top of your list. Known for its picturesque coastline, crystal-clear waters, and stunning rock formations, Albufeira offers a beach experience like no other. Whether you're looking for a peaceful retreat or a fun-filled day by the sea, Albufeira has it all.
Here are some of the top beaches in Albufeira that you shouldn't miss:
Praia dos Pescadores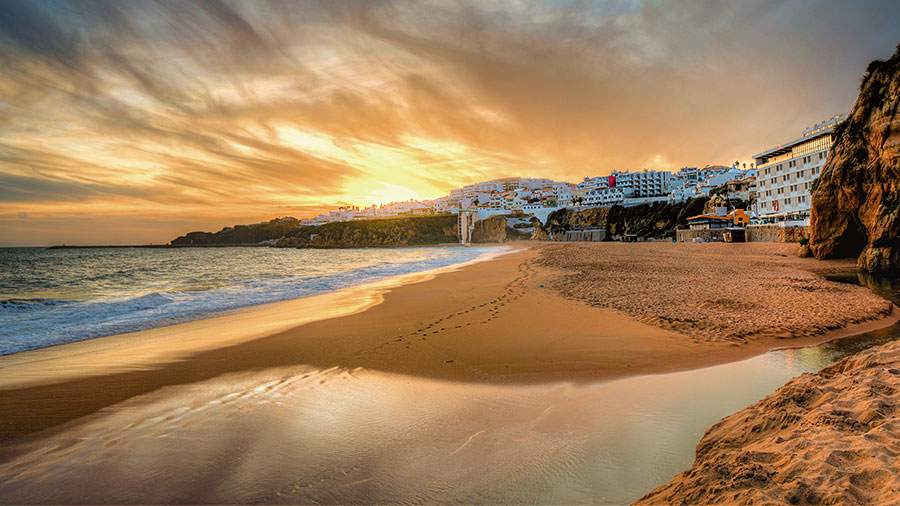 Located in the heart of Albufeira's old town, Praia dos Pescadores (Fisherman's Beach) is a popular choice among visitors. With its golden sand, calm waters, and vibrant fishing boats, this beach offers a charming and authentic atmosphere. Take a stroll along the promenade and enjoy the view of the colourful umbrellas and the picturesque cliffs that surround the beach.
Praia de São Rafael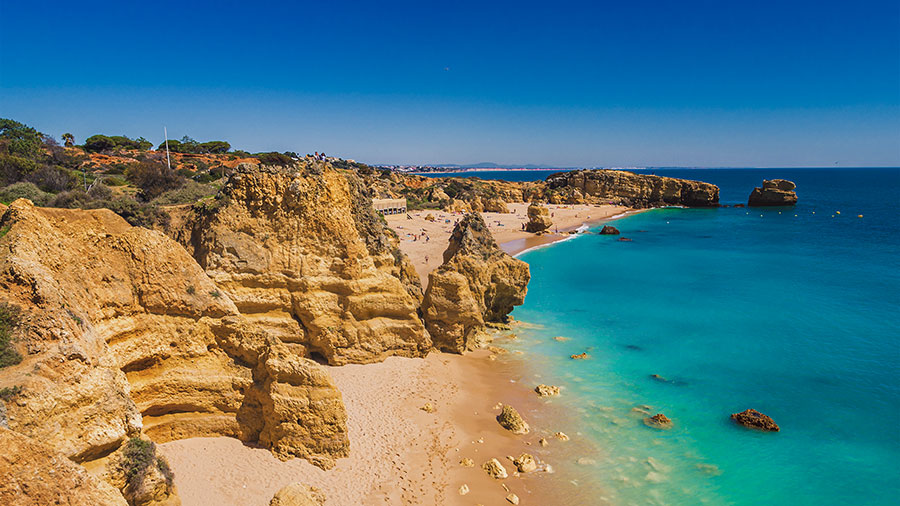 If you're looking for a more secluded and peaceful beach experience, head to Praia de São Rafael. This stunning beach is characterized by its unique rock formations and clear turquoise waters. It's the perfect spot for snorkelling and exploring the underwater world. Don't forget to bring your camera as the views here are simply breathtaking.
Praia da Falésia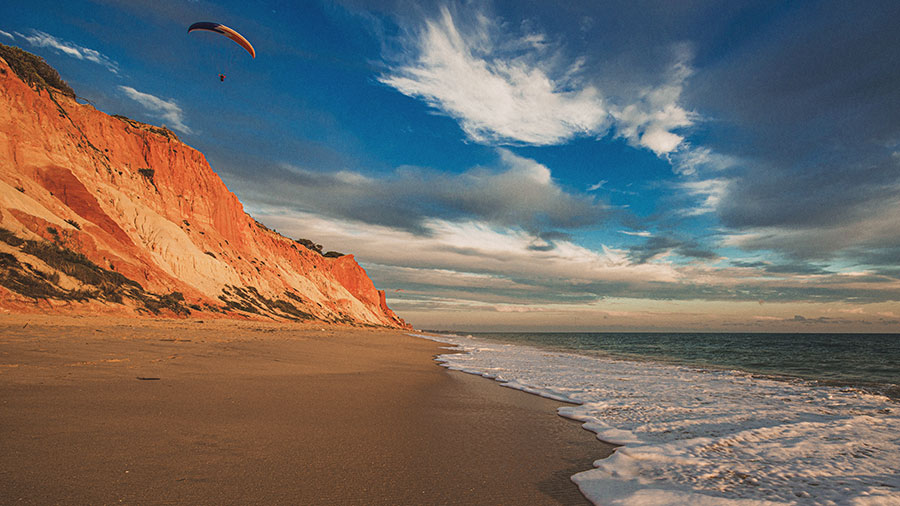 Stretching for miles along the coast, Praia da Falésia is one of the most iconic and beautiful beaches in Albufeira. With its dramatic cliffs, golden sand, and crystal-clear waters, it's a must-visit for beach lovers. Whether you prefer relaxing under an umbrella or going for a long walk along the shore, Praia da Falésia offers a serene and enchanting setting.
Praia dos Salgados
Known for its natural beauty, Praia dos Salgados is a paradise for nature enthusiasts. Surrounded by dunes, marshlands, and a beautiful lagoon, this beach offers a unique ecosystem for flora and fauna. Take a leisurely walk along the wooden walkways and observe the various species of birds that inhabit the area. It's also a great spot for birdwatching and photography.
Praia da Coelha
Tucked away between cliffs, Praia do Coelha is a hidden gem that offers tranquillity and natural beauty. With its clear waters and soft sand, it's a great spot for swimming and sunbathing. The picturesque surroundings make it a popular choice for couples and those looking for a romantic getaway.
---
To fully enjoy your time in Albufeira and explore its stunning beaches, renting a car is highly recommended. With our convenient car rental services, you can easily access all the top beaches and also discover the beauty of the Algarve region. Whether you're planning a day trip to nearby coastal towns or want to venture further into the Algarve countryside, having a car gives you the freedom to explore at your own pace.
Our car rental fleet offers a wide range of vehicles to choose from, suiting every budget and preference. Whether you need a small compact car for easy parking or a spacious SUV for a family adventure, we've got you covered. Our rental process is straightforward, and our friendly staff will be on hand to assist you with any queries.
Albufeira's Old Town
Exploring the Charm and Vibrancy of Albufeira's Historic Old Town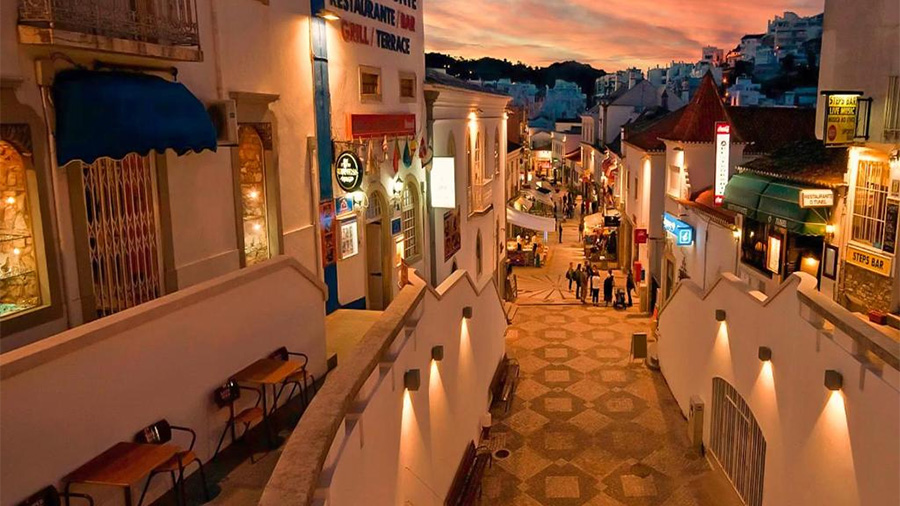 This historic district is a hidden gem nestled on the southern coast of Portugal's Algarve region. With its rich history, beautiful architecture, and vibrant atmosphere, the old town is a must-visit destination for tourists.
As you wander through the narrow cobblestone streets of the old town, you'll be captivated by the traditional white-washed buildings adorned with colourful flower pots and decorative tiles. The architecture reflects the town's Arab influence, showcasing a unique blend of styles that has been preserved over the centuries.
One of the main attractions in the old town is the Igreja Matriz, a charming church that dates back to the 18th century. This stunning example of neoclassical architecture is a testament to the town's rich heritage and offers visitors a glimpse into its religious history.
Another must-see spot is the Torre do Relógio, a historic clock tower that was originally an ancient Muslim tower. From its vantage point, you can enjoy panoramic views of the old town and the surrounding area. The tower is a popular meeting point for locals and tourists alike.
The old town is also home to a variety of quaint shops, boutiques, and art galleries, where you can find unique souvenirs and handmade crafts. Don't forget to explore the local markets, where you can sample delicious fresh produce, traditional sweets, and locally made products.
When it comes to dining, the old town offers a wide range of culinary delights. From cosy family-run taverns serving traditional Portuguese dishes to trendy restaurants offering international cuisine, you'll find something to suit every palate. Enjoy a leisurely meal while taking in the vibrant atmosphere of the town's bustling streets.
As you navigate through the old town, keep an eye out for the lively entertainment and street performances that take place throughout the year. From colourful festivals and music events to lively dance performances, there's always something exciting happening in Albufeira.
Albufeira's old town is a delightful destination that combines history, culture, and natural beauty. Explore the charming streets, discover hidden gems, and immerse yourself in the vibrant atmosphere of this historic district. Don't forget to capture the memories of your visit to Albufeira's old town, as it will surely be an experience to remember. And if you're in need of a car rental to explore the Algarve region further, our car rental service is here to assist you.
Outdoor Activities
Experience the Best Outdoor Activities in Albufeira
Albufeira offers a wide range of outdoor activities to enjoy. Whether you're a thrill-seeker or looking for a peaceful getaway, Albufeira has something for everyone. With its stunning coastline, crystal-clear waters, and beautiful weather, it's no wonder this region is a favourite destination for vacationers.
One of the most popular outdoor activities in Albufeira is water sports. With its prime location on the Atlantic Ocean, you can try your hand at surfing, paddleboarding, or jet skiing. The warm waters and consistent waves make it the ideal spot for water sports enthusiasts of all levels. You can rent equipment from local shops or take lessons from experienced instructors.
For a more relaxing and immersive experience, consider going on a boat trip along the coastline. From leisurely cruises to exciting speed boat tours, there are plenty of options to choose from. Explore hidden caves, admire the rugged cliffs, and spot dolphins swimming in their natural habitat. Don't forget your camera as you'll have plenty of photo opportunities along the way.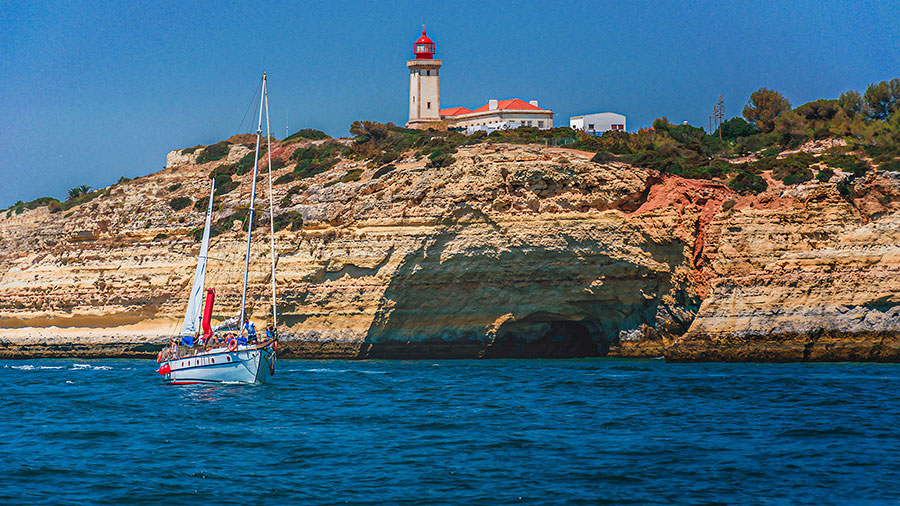 If you enjoy hiking and nature walks, Albufeira has several coastal trails that offer breathtaking views of the ocean. The famous Fisherman's Trail is a must-do, taking you along dramatic cliffs and rugged beaches. You can also explore the nearby pine forests and countryside, immersing yourself in the natural beauty of the region.
Albufeira is also known for its golf courses, with several world-class options available. Enjoy a round of golf surrounded by stunning landscapes and perfect greens. Whether you're a pro or a beginner, golfing in Albufeira is an unforgettable experience.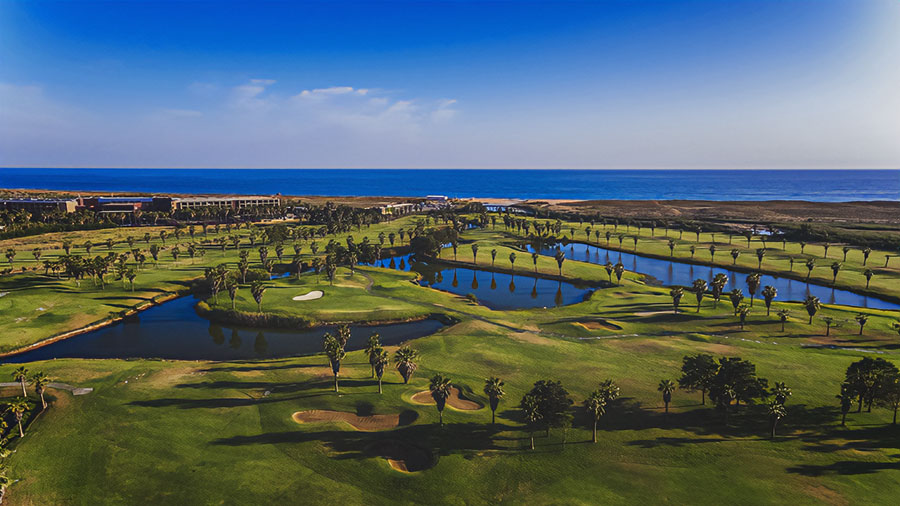 To make the most of your outdoor adventure in Albufeira, consider renting a car from our car rental service. This will give you the freedom to explore the region at your own pace and visit different outdoor sites easily. From the beautiful beaches to the picturesque countryside, having a car will ensure you don't miss a thing.
Albufeira's Nightlife
Unleashing the Party Spirit: The Energetic Evening Atmosphere and The Strip of Albufeira
Albufeira is renowned for its lively and diverse nightlife, offering an array of experiences for all kinds of party-goers. The city's nightlife epicentre is "The Strip" or Avenida Sá Carneiro, a lively stretch brimming with eclectic bars and clubs. From pulsating live music to contemporary dance clubs, The Strip offers a captivating, unforgettable party atmosphere that throbs with energy.
The Marina area of Albufeira provides a contrasting, upscale alternative for those seeking a more sophisticated night out. This scenic waterfront locale is dotted with chic bars and lounges where visitors can relish exquisite cocktails against the backdrop of a stunning sunset. Besides these regular venues, Albufeira keeps the energy high with various music festivals, beach parties, and cultural celebrations scattered throughout the year, ensuring there's always something exciting happening.
While soaking in Albufeira's vibrant nightlife, it's important to prioritize safety and enjoyment. Maintaining hydration, drinking alcohol responsibly, staying aware of surroundings, and pre-arranging transportation can ensure a memorable and worry-free night. Albufeira's nightlife, with its pulsating energy and varied offerings, promises an unforgettable experience – from dancing till dawn to creating lasting memories with fellow revellers.
Local Cousine and Dinner
Dining in Albufeira: Exploring the Local Cuisine and Portuguese Gastronomic Delights
Albufeira not only offers stunning beaches and breathtaking landscapes but also boasts a diverse culinary scene that is sure to delight food lovers. From traditional Portuguese dishes to international cuisine, there is something to satisfy every palate in this vibrant city.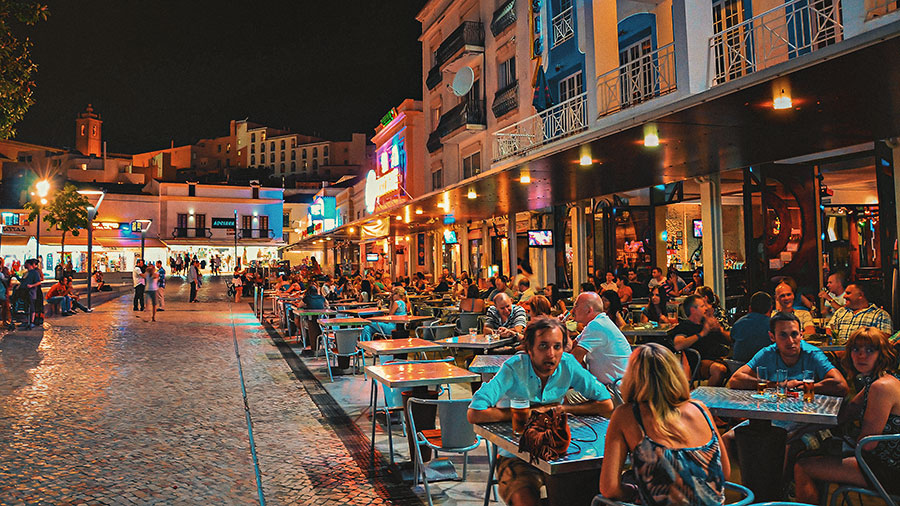 One of the highlights of dining in Albufeira is the abundance of fresh seafood available. As a coastal city, Albufeira is known for its delicious and mouthwatering seafood dishes. From succulent grilled sardines to flavorful fish stews, you will have the opportunity to savour the taste of the ocean in every bite. Many local restaurants offer daily catches and seafood platters, allowing you to indulge in the freshest seafood Albufeira has to offer.
In addition to seafood, Albufeira also offers a wide variety of international cuisines. From Italian to Indian, Chinese to Brazilian, you can find a diverse range of restaurants serving flavours from around the world. Whether you're in the mood for a comforting pizza, spicy curry, or succulent churrasco, Albufeira has got you covered.
For those looking for a taste of traditional Portuguese cuisine, you won't be disappointed. Albufeira is known for its delectable bacalhau (salted cod) dishes, such as Bacalhau à Brás or Bacalhau com Natas. These dishes showcase the rich flavours and textures of Portugal's most beloved fish. Other traditional Portuguese dishes such as Feijoada (a hearty bean stew with pork) and Cataplana (a seafood dish cooked in a copper pot) can also be found in many local restaurants.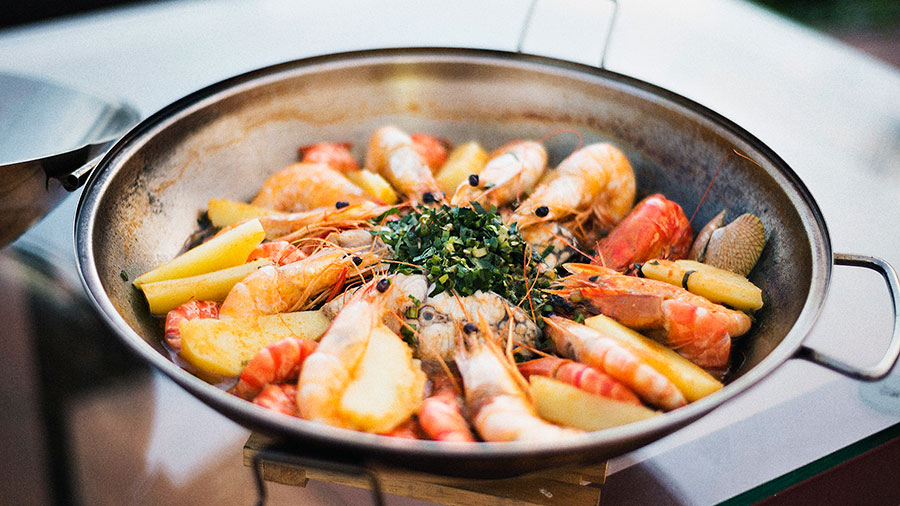 When dining in Albufeira, you can also take advantage of the outdoor seating options, allowing you to enjoy your meal while soaking up the vibrant atmosphere of the city. Many restaurants offer al fresco dining with views of the sea or the bustling streets of Albufeira.
As a car rental business in Albufeira, we highly recommend exploring the local culinary scene during your stay. Whether you're indulging in fresh seafood, savouring traditional Portuguese dishes, or discovering flavours from around the world, Albufeira is sure to exceed your expectations and leave you craving for more.
Next time you visit Albufeira, be sure to embark on a culinary adventure and experience the diverse and delicious cuisine that this vibrant city has to offer. "Bom apetite"!
The Advantage of Car Hire in Albufeira
In a place as diverse and picturesque as Albufeira, where every corner is a new adventure waiting to be discovered, having the ability to freely explore is indispensable. The beauty of Albufeira is not only contained within its city limits but also extends out into the idyllic Algarve region. Therefore, the convenience and flexibility of a car rental is simply invaluable.
At Albufeira Car Hire, we make it easy and affordable for you to experience the best of Albufeira and the wider Algarve region at your own pace. From visiting the serene beaches to exploring the narrow cobbled streets of the old town, from indulging in the local cuisine to experiencing the diverse outdoor activities, having a car at your disposal enhances your journey in unimaginable ways.
Whether you're a history buff seeking to explore the rich heritage of the city, a beach lover hunting for the perfect golden stretch of sand, a nature enthusiast seeking the tranquillity of the countryside, or a foodie wishing to savour the delights of Portuguese gastronomy, a rental car enables you to fulfil your travel desires on your own terms.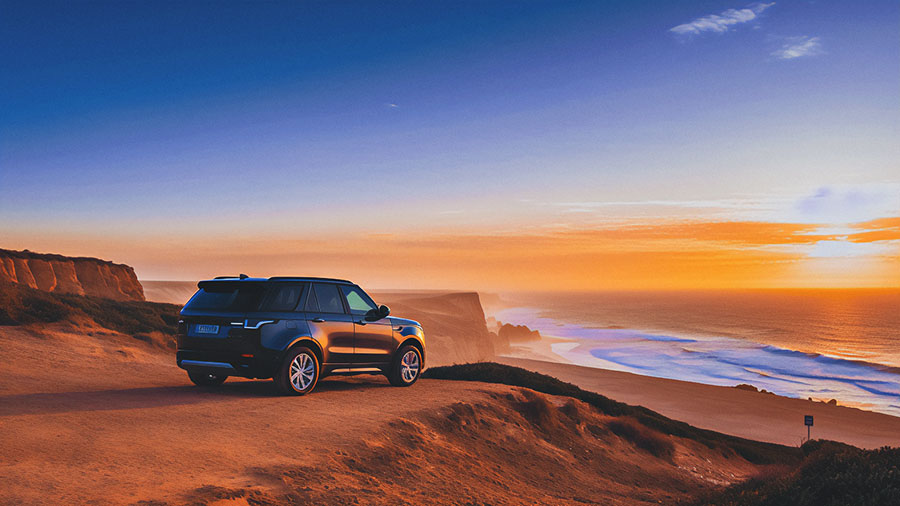 Our easy and efficient car rental process means that you can start your adventure as soon as you arrive in Albufeira. With our diverse fleet of vehicles to suit all travel needs, you have the freedom to choose the perfect car to complement your Albufeira experience.
In conclusion, Albufeira is a treasure trove of experiences waiting to be discovered. To truly immerse yourself in its wonders, there is no better way than to traverse its stunning landscapes and vibrant cityscapes in a comfortable, reliable, and affordable rental car from Albufeira Car Hire. Your journey begins with us.